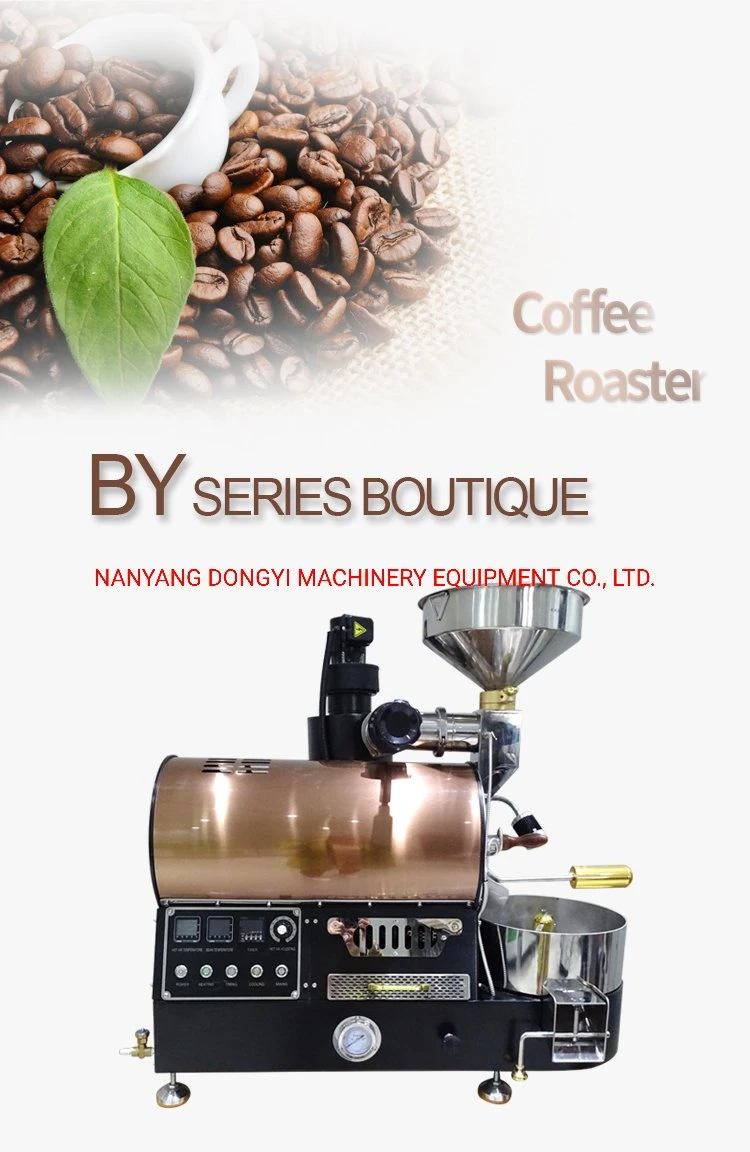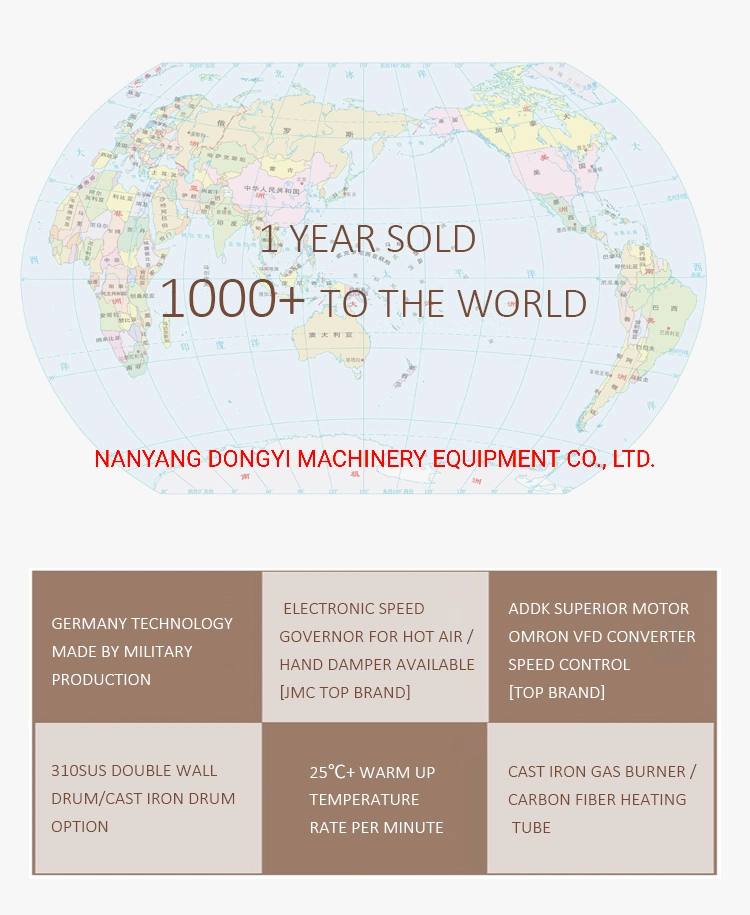 Production description
Coffee roasting machines BY 1kg 2kg 3kg 6kg coffee roasters for commercial use coffee bean roaster manufacturer
BY-3 elegant design can roast 1000-3500G coffee beans. Based on DY-3kg, we upgraded the technology for the drum (inner pot). BY-3 Pro adopts the double-walled drum totally avoid inner pot overheat problem.
Special blades design inside the pot makes coffee beans get more even heat. It adopts Industrial grade temperature control system, zero delay of output temperature. Variable pot speed adjust function help to develop your roast skills; USB data logging and Mobile Phone APP application keep your roasting profiles more easily.

Independent chaff cyclone collector and cooling try system improve your roast efficiency. No matter what you are a learner of roasting, or you are a professional roastmaster, you can easy to handle your roast. It comes with latest technology and 1 year warranty. Color choice: Red, Black,white, gold
1kg 2kg 3kg 6kg coffee roasters from light to dark roasting for green coffee beans
Heating Source
LPG/NG/Propane
Electric
Model No.
BY-3
BY-3
Heating Type
Semi - hot air
Semi- Hot Air
Voltage
Single Phase 220V, 50/60HZ
Single Phase 220V, 50/60HZ
Power
640W
6640W
Roasting Capacity
1000g- 3500g
1000g - 3500g
Data Logger
Mobile Phone Bluetooth &Computer USB
Mobile Phone Bluetooth & Computer USB
Machine Dimension
1250*610*1240mm
1250*610*1240mm
Weight
340kg
340kg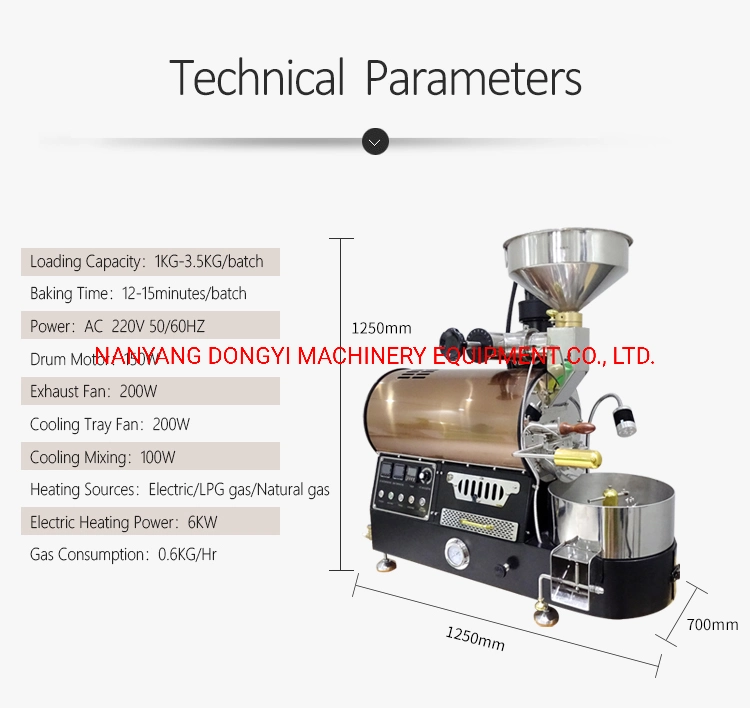 Outstanding Features For coffee roaster with data logger
1)Double Walled stainless steel drum.
2)Gas heating and electric heating for option.
3)Accurate temperature control, Precise hot air volume adjust.
4)High performance burner to save the fuel.
5)Mobile Phone Bluetooth and USB computer work with artisan software for data logger.
6)Color choice: Red, Black,gold, white
7)Warranty: 1 Year warranty
8)Certificate:CE/ISO9001

Detail image
Why Double-walled Drum?
BY-2 the outer and inner layer of drums are made of 5mm thick stainless steel. When gas is ignited, hot air fills full in gap between the outer and inner layers, the hot air is around the inner drum, this avoid the beans in drum closest to the burner are subjected to higher temperature than beans away from the burner,this gives very even heat to the coffee beans. Even heat can maximize the rich flavor from your roasted coffee beans.
Omron Dual Temperature PID controller
Beautiful and efficient,thermocouple temeratuer sensor accurate,dual digital sensor display, at a glance.

Equipped with observation window and sampling stick.
Equipped with a visual window, can clearly observe the color of coffee beans during roasting, import rosedwood handle sampler, high end atmosphere.

Large mixing cooling pan
Large independent stirring plate, cooling rapidly (1-2 minutes), contunuouse roasting.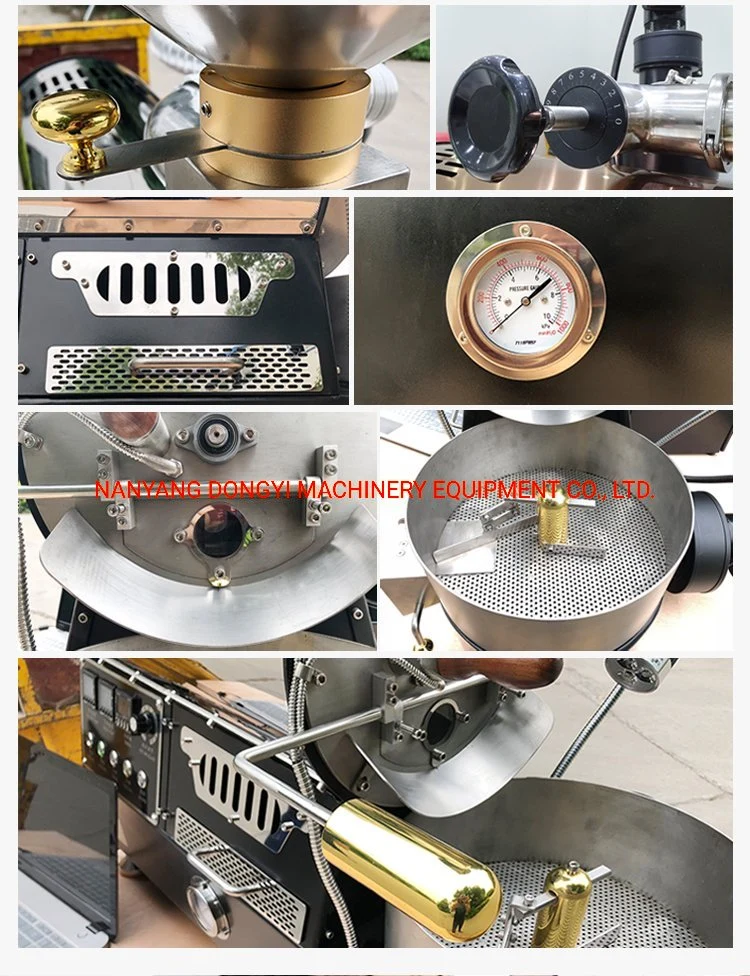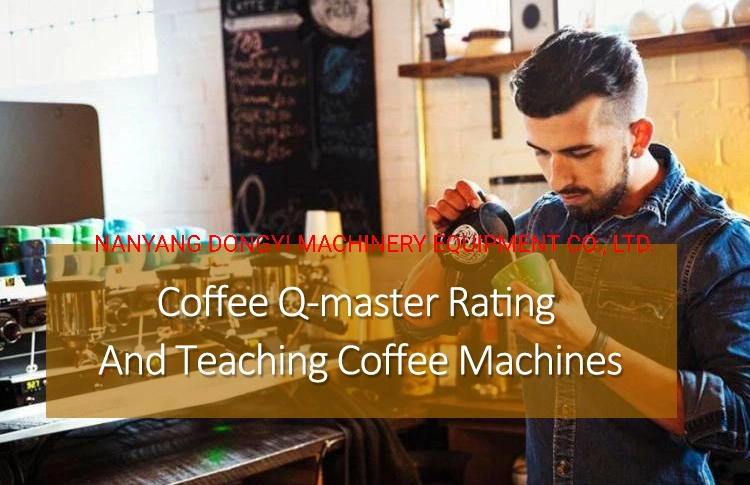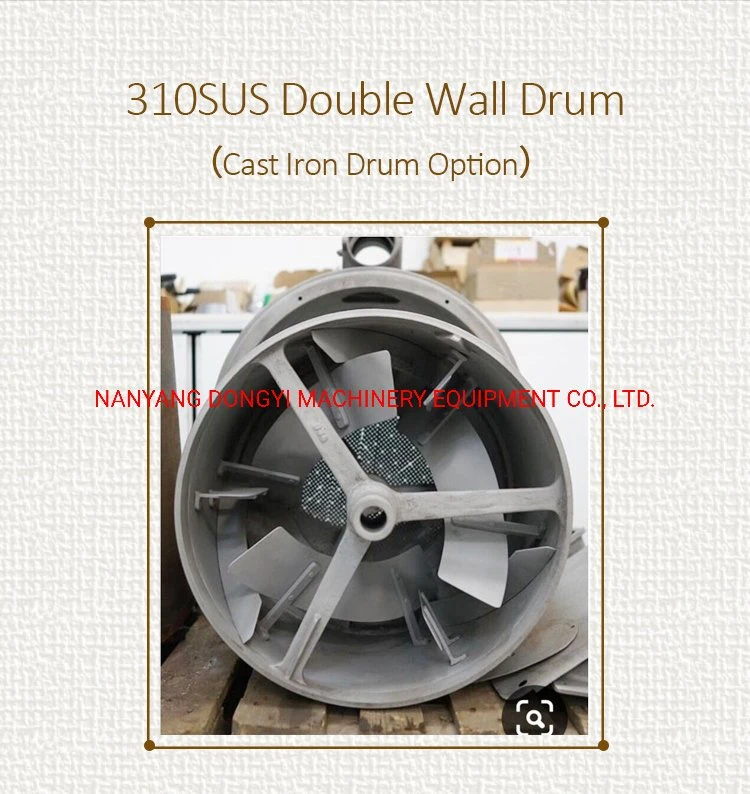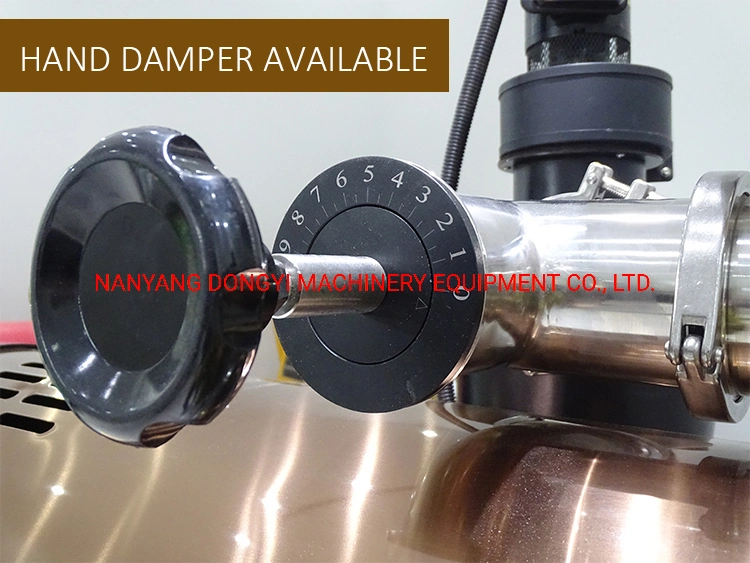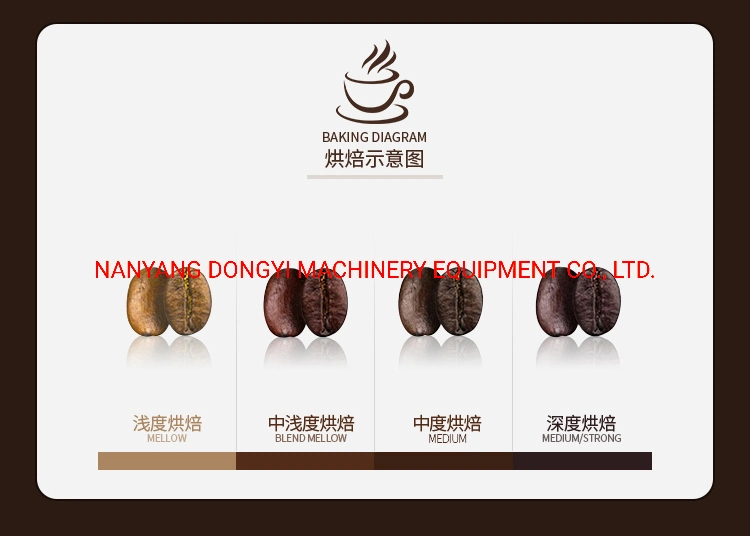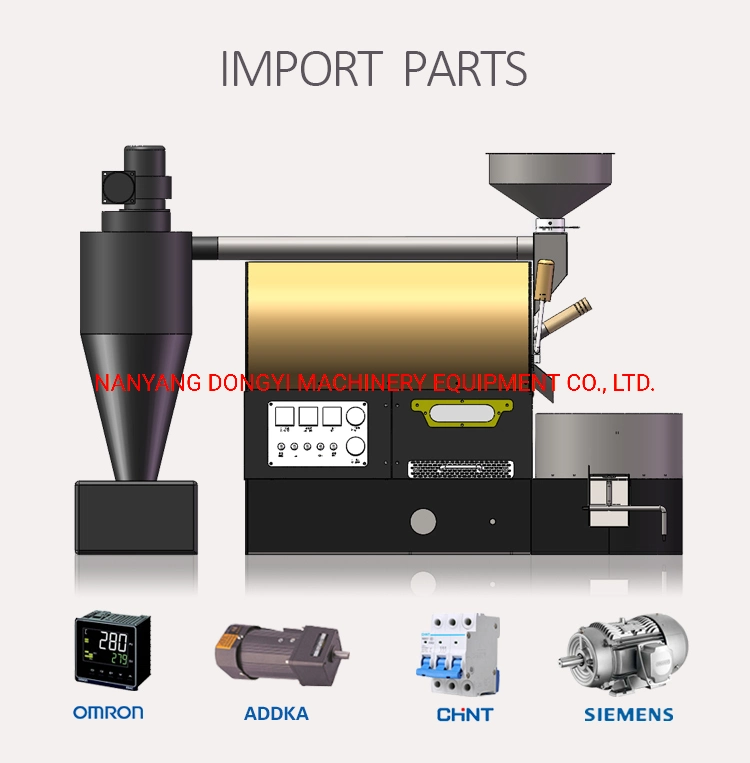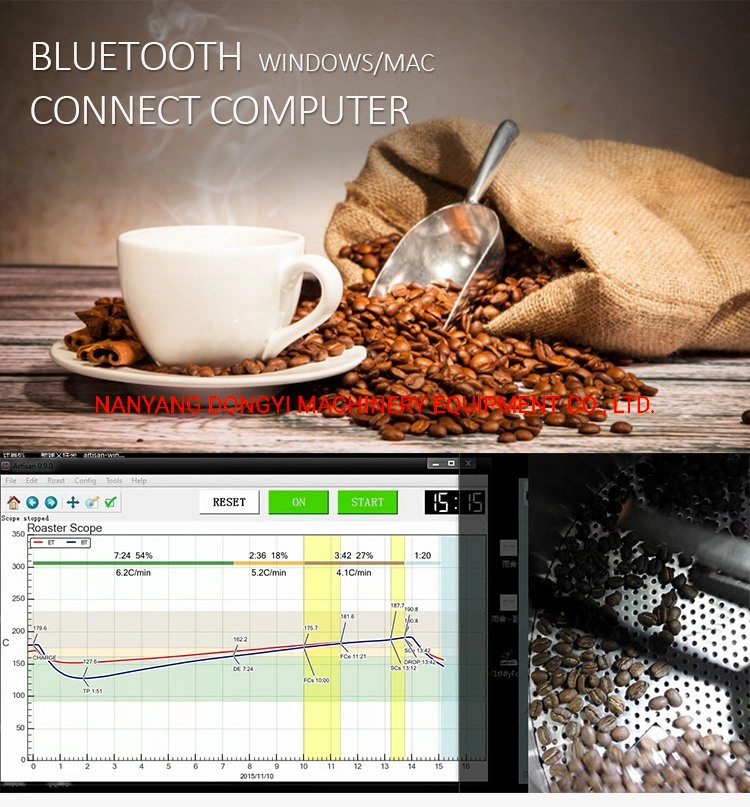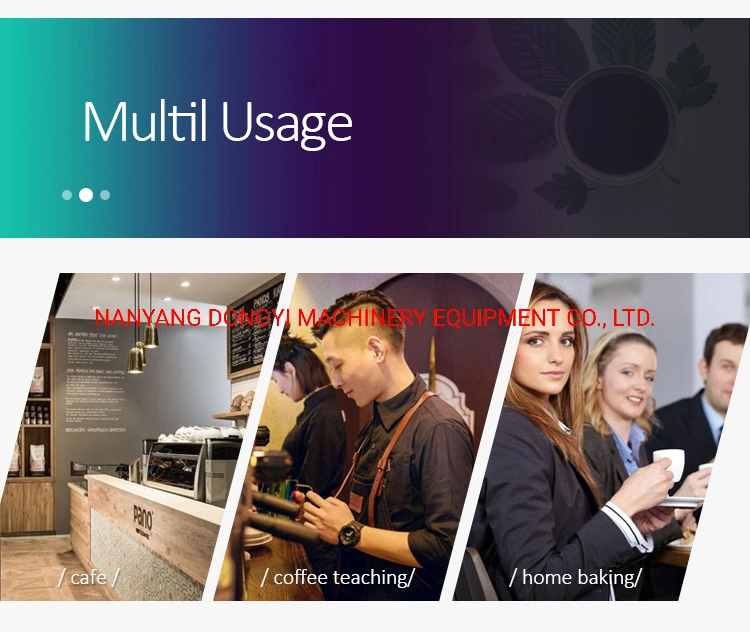 Packing information
Fixed In Standard export Plywood carton
Machine surface wrapped, plastic fastening
30% deposit when placing order, 70% balance paid before shipment.
3-5 days after receipt of balance payment
Company Information
Our factory is a technological company specializing in the development and manufacturing of coffee roasters. We can offer 1, 3, 6, 12, 20, 30, 60, 120, 200kg different capacity models.
DY and BY series coffee roasters,
DY models are avilable in 1kg, 2kg, 3kg, 6kg, 12kg, 20kg, 30kg, 60kg, 120kg etc.
BY models are available in 1kg, 2kg, 3kg and 6kg
OEM and ODM services are offered.
Nanyang Dongyi Machinery Equipment Co., Ltd is a Real manufacturer direct sell to distributor, wholesaler, shop, own users, a professional enterprise which is combined with developing, designing, manufacturing and marketing, besides, it has formed its own brand -advantage.
Ours main products included:
BY series coffee roaster
BY1-6KG Coffee Roaster
DY series coffee roaster
DY1-300KG Coffee Roaster
LQ series nuts roaster/grain roasting Machine
LQ30-L1000 Nut Roasting Machine
Smoke Reducer
Q3-Q10
MF coffee Grinder
MF10-MF60,SF180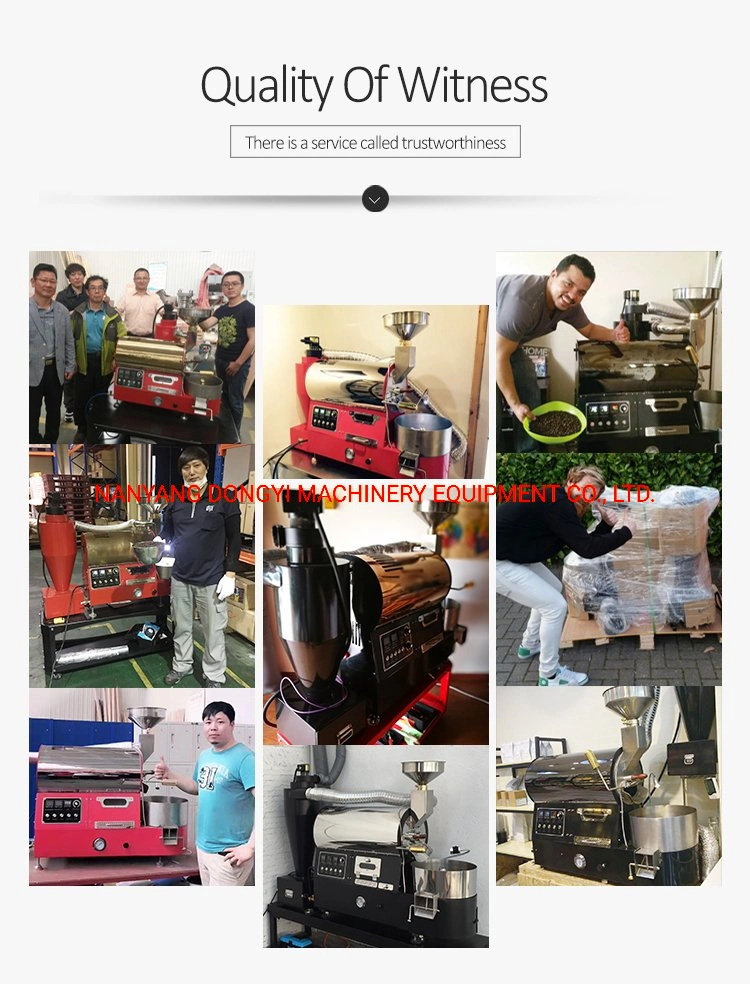 FAQ
1. Are you the manufacturer factory or trading company?
We are the manufacturer with professional produce experience on roaster machines more than 15 years. We have both Domestic and international sales department.
2. Where is your factory located? How can I visit there?
Our factory is located in Nanyang City, Henan Province, China,
Airport : Nanyang airport.
Rail Station: Nanyang Station
We will pick you up by car from above.
3. What are your main products?
Our main products include: 1kg-6kg small commercial coffee roaster/6-120kg industrials automatic coffee roasting machine/electric nuts roasting machine / grain seeds gas roaster/ Nuts and grain continuous electric roasting dryer/coffee bean feeding machine /de-stone conveyor / grinder
4. What payment types do you accept?
We accept T/T in advance (30% of deposit before production and 70% balance before delivery), bank transfer, Paypal or credit card under Alibaba online trade assurance or offline payment. We also accept L/C.
5. How to distribute your products?
If you are dealing coffee business and have interests in us.
if you want to be our wholesaler or distributor in your
place,we are very willing to share profits together with you and we promise here you will get
A: Min order quantity up to 5 units (can be mixing color and model ), we can offer best distributor price again
B: free DIY color and customer logo on roasters ( I have indicated some done color before, also welcome new color require by Pantone color lists)
C: factory costs price supply spare parts for distributor stock
D: distributor markets Special protection policies
E: quick delivery and other more priority NEW products share items
6. How do your quality control systems operate?
We have professional designer team and experienced engineers to strictly guarantee the production from beginning to shipment.
7. What is your delivery time and cost?
For goods in stock, can arrange fast delivery around 5-10 working days after collect the full payment. In the case of out of stock and large quantity, production time varies about 15-30 working days depending on the situation.
We have customized special delivery package for certain markets, such like US, UK, Australia, Southeast Asia, Europe, South America etc. Contact sales to get further information.
8. How long is your warranty and after-sale service?
One-year limited warranty. Additionally, all of our roasters come with guaranteed personal support for the roaster's entire lifetime. While it is rare for our machines to face problems, our teams is always available to troubleshoot and answer questions. Simple call or email us and a member of our support team will provide the necessary assistance in a quick, succinct manner.
9. Does
your
c
ompany offer worldwide distribution?
Yes,
we are
proud to be a global company. We ship our products all around the world.
Welcome to contact us any time and welcome to our company!